14 août 2012
The "VERAISON"
The " VERAISON "
With the first week of August comes the colour to the grapes: This is what we call here "véraison ".
But this is only possible if the vine has enough humidity to fix the fructose wich has been elaborated by the assimilation of the chlorophyll.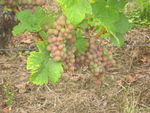 But for the last ten days the vineyard was realy thirsty, and the process nearly blocked .
So when august 12th brought us a shower of rain, it was more than welcome: 45 l of water by square meter ! We now have great hopes in a very balanced vintage.